8 Best Value Computers & Laptops for Small Business 2017
Computers are the backbone of most, if not all, business environments. And while things are getting blurry between tablets, 2-in-1s, and laptops – the need for a high-functioning machine is in more demand than ever.
Finding the right business laptop for your needs is a serious investment. It's always best to get the facts straight up before you make that large purchase.
This list is in no particular order, but here the criteria that had to be met to make a list in general:
Processor Power – is it powerful enough to keep up with your business needs?
System Memory – is there enough memory to run all your applications?
Storage – how many programs, documents, videos will be saved on your device?
Return on Investment - best bang for your buck
Outside of the list above, there are a few things to keep in mind when shopping around. Business laptops should be lightweight, sturdy and have great battery life.
We've highlighted the top 8 best value small business computer options for 2017. Consider these when shopping for a great buy.
Ultrathin / Ultraportable
HP Spectre Pro 13 G1
Thin and beautiful the HP Spectre Pro is set to go toe-to-toe with the high-powered MacBook Pro. It is alluringly slim without losing the functionality. But you'll need dongles for USB connectivity, as it only hosts 1 USB 3.1 and two thunderbolts. It's packed with power not expected by a computer this small with a decent battery life of 6 hours and 10 minutes of continues video playback. If you are looking for an ultrathin ultraportable, there is nothing on the Windows market that currently that can rival this laptop.
CPU: Intel Core i7-6500U | Graphics: Intel HD 520 Graphics | RAM: 8GB | Screen: 13.3-inch, 1920 x 1080 pixels | Storage: 512GB SSD
Dell XPS 13 Kaby Lake
This computer is marketed more like a home office laptop than a straight up business machine, but don't let it fool you. The ultraportable Dell XPS 13 Kaby Lake is 13.3 inches of power. With almost 22 hours of continuous use, the battery life and ease for upgrading make this an incredible buy. The screen had a major upgrade in this version with "Infinity Edge" technology and an SD slot. Many claim this computer is best in its class: slim, light, and strong. Period.
CPU: Intel Core i3 – i7 | Graphics: Intel HD Graphics 620 – Iris Plus Graphics 640 | RAM: 4GB – 16GB | Screen: 13.3-inch FHD (1,920 x 1,080) – QHD+ (3,200 x 1,800) | Storage: 128GB – 1TB SSD
Desktops
HP EliteDesk 800 G3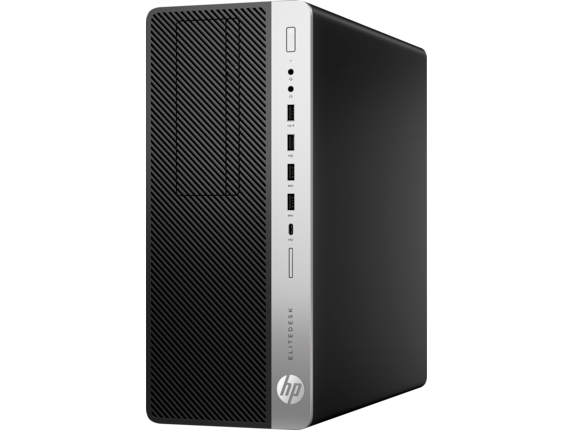 This machine is small but is bursting with power. It can run an Intel i7 7th Gen processor and boast up to 32 GB of DDR4 RAM. Storage is not an issue for this PC as it can hold up to 1 TB of data; that should be more than enough for all your storage needs. Its small design gives it a small footprint so you can place it anywhere without taking up too much space.
CPU: Intel Celeron G3930 - i7 7700 | Graphics Intel HD Graphics 630 | RAM: 4 GB DDR4 - 32 GB DDR4 | Storage 500 GB - 1 TB
Dell Optiplex 5050
This versatile computer can meet your needs and the needs of your employees as well. The Dell OptiPlex has a mid-tower and small form factor option. Basically, there is the big and small version of the same computer. Think: iPhone vs the iPhone Plus – same phone, different size. It can house up to 2 TB of storage and able to carry a dedicated AMD video card. It can also support the latest i7 from Intel and can run super-fast starting at DDR4 RAM and upping the ante to 64 GB. This computer gives you the ability to customize it to fit a wide range of uses at a reasonable price.
CPU: Intel Pentium G4400 – i7-6700 | Graphics: Intel Integrated – AMD R7 450 4GB | RAM: 8 GB – 64 GB | Storage: 500 GB – 2 TB
2-in-1 / Tablets
Microsoft Surface Pro 4
If you are looking for a 2-in-1 or tablet, the Surface Pro 4 is a Windows 10 powerhouse. And while business-class tablets are still evolving – most are still build for performing very light computing tasks, like word processing and email. The Surface does, however, offer a broad range of configuration and price points that can give you the speed and performance professionals need. It's the biggest con is that it lacks USB-C or Thunderbolt 3 drives. At the end of the day, while it far exceeds its predecessors in performance, battery life and speed, it's still a 2-in-1 tablet and not a full-blown laptop.
CPU: Intel Core m3 – i7 | Graphics: Intel HD Graphics 615 – Iris Plus Graphics 640 | RAM: 4GB – 16GB | Screen: 12.3-inch, 2,736 x 1,824 PixelSense display | Storage: 128GB – 1TB SSD | Connectivity: 802.11ac Wi-Fi; Bluetooth 4.1 | Camera: 8MP rear-facing, 5MP front-facing
Lenovo Yoga Book
Low-cost yet packed with perks, the Lenovo Yoga Book is extremely thin and light with an excellent display. Like all Yoga's, the screen folds flat so it can be used as a tablet or a laptop – giving users the ability to draw and write with the built-in Wacom digitizer. A new feature is operating system options. You can buy it with Windows 10 or Android 6.0. How you use the device should dictate which operating system you select. The screen is nice, not cheap looking, and the keyboard/capacitive touch-keyboard are well built. For the asking price, this is a GREAT computer for basic tasks.
CPU: Intel Atom x5-Z8550 | Graphics: Intel Atom | RAM: 4GB | Screen: 10.1-inch full HD IPS touchscreen | Storage: 64GB SSD, up to 128GB microSD
Alternatives to Windows
MacBook Pro Touch Bar 13/15 in
What most Mac users like about Apple is that they get the basics right and expand from there. The new MacBook Pro + Touch Bar is no exception. Reviewers have great things to say about the smooth and HUGE trackpad, as well as the accurate and crisp keyboard. With the ultra-wide color range and super-high-resolution screen, it might be the best display out right now. The computer is thin and light at about 3-pounds.
Apple opted out of a touchscreen in favor of an OLED strip, which sits above the keyboard where the function keys once were. This bar knows what app or browser you are using, and assists you with features or settings you might need quickly. For example, in Word, font size, color, and similar functions are within fingers reach. It's fast, responsive, and smooth textured glass adds an element of sexy to the computer, along with its fingerprint Touch ID reader to log in and or to pay for stuff. Again, this is either for you or not, as Apple does offer the Macbook Pro without the touch as well. Overall it's a high functioning powerful computer, different than most on the market in its ways.
CPU: Dual-core Intel Core i5 – i7 | Graphics: Intel Iris Plus Graphics 640 – 650 | RAM: 8GB – 16GB | Screen: 13.3-inch, (2,560 x 1,600) IPS | Storage: 256GB – 1TB PCIe 3.0 SSD
Acer Chromebook 14
It's no secret that the Cloud has an enormous presence in the business world. If most of your business is web-based and you don't have a huge need for desktop-based software, like Microsoft Office or Adobe Photoshop, the Acer Chromebook 14 could be a great option for you. While not a traditional computer, the price point is extremely attractive. Because they don't need to power large programs, such as the ones listed above, and they don't have much (if any) local storage, they are at a lower price point. Again, if you need a beefier processor, this isn't for you. But those who use all things G Suite or don't need heavy software, this computer is simple, affordable, and perfect for a Chrome browser-based work environment.
CPU: Intel Celeron N3060 - N3160 | Graphics: Intel HD Graphics 400 | RAM: 4GB LPDDR3 | Screen: 14" HD (1366x768) - 14 " Full HD (1920x1080) 16:9 IPS | Storage: 16 GB - 32 GB Internal Storage
Buying a new computer or laptop is a significant investment. Think about what you want right now and the future goals of your company before jumping to a decision. Take your time to understand the different kinds of devices. Once you know your options, or at least narrowed it down, then make a decision. If you need some support, work with your IT department. They will have more insight into current technology and likely have the scope of where your business needs are headed.
---
Related: Business Email: Microsoft Office 365 vs Google G Suite